OMAC POMPE Quality Policy
Customer satisfaction always comes first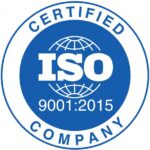 OMAC always paid the greatest attention to meet the customers requirements. In order to improve continuously manufacturing process, products and Client service, since several years has been introduced a Quality Service by the Company Management subsequently developed into a Quality Management System. Being aware of the market demand , OMAC decided to get the certification for its own Quality Management System, realized according to the Standards UNI EN ISO 9001:2000 and obtained on 2005. In order to check periodically the achievement of the Quality Policy targets, our Quality System is involved in a methodical data collection, according to a strategy of continuous improvement.

Idoneità al contatto alimentare, tutte le pompe OMAC, progettate e costruite per il trasferimento di un prodotto alimentare, sono conformi ai requisiti di sicurezza previsti dalla direttiva 2006/42/CE oltre che dai Regolamenti: CE n.1935/2004 e 2023/06/CE (GMP) relativo alle Good Manufacturing Practice, con capacità di pulizia pari a LIVELLO 1 o 3, come indicato dalla norma UNI EN ISO 13951:2012

On 1995 OMAC obtained first 3A certification according standard No. 02-09 for the series B lobe pumps. The 3A certification being the Sanitary Standards for design and use of materials and the surface finish. In 2006, following the entry into force of the new Standard No. 02-10, we developed from the series B series the new BB/BA series that can be certified 3A while the B series is no longer complies. After, also BE, BF and C series obtained 3A approval. 3A symbol on lobe pumps and relate certificate is available only on request before order.
On 2005 BF series SC has obtained, after Cleanability Test at the München Engineering University, EHEDG'S certification (European Hygienic Engineering & Design Group) show that this kind of OMAC pump meets all requirements for hygienic design and is to be classified as "easy cleanable". On 2008 even C series has obtained the EHEDG'S certification.

OMAC's lobe pumps confirm their reliability and safety having obtained the ATEX certification after submitting their technical file to TÜV Nord. Lobe pumps series B, BF and C can be supplied in ATEX execution with classification II 2G kc T4, for installation in areas with the presence of a potentially explosive atmosphere caused by the existence of various gas/vapour and mist of inflammable liquids.